Day 0
Packing the gear (Most important part of the trek) .. A good set of traction shoes, windbreaker, trekking sticks, Sunscreen, Walkies Talkies, wrist bands, Binoculars, head lights, pair of glares, Battery packs, headsets (music a must)…..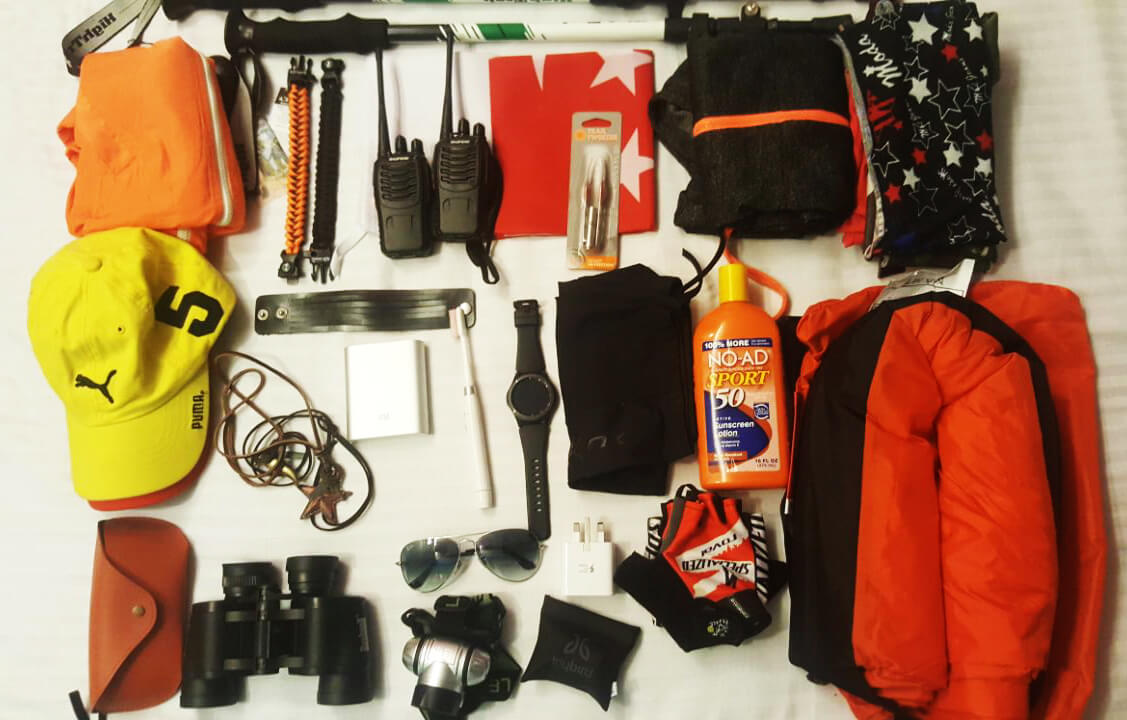 5 of us embarked on a journey of unknown adventure
Morning 5 am at Changi airport to board a flight to start of a journey to Mount Rinjani or Gunung Rinjani an active volcano in Indonesia on the island of Lombok. It rises to 3,726 meters (12,224 ft), making it the second highest volcano in Indonesia.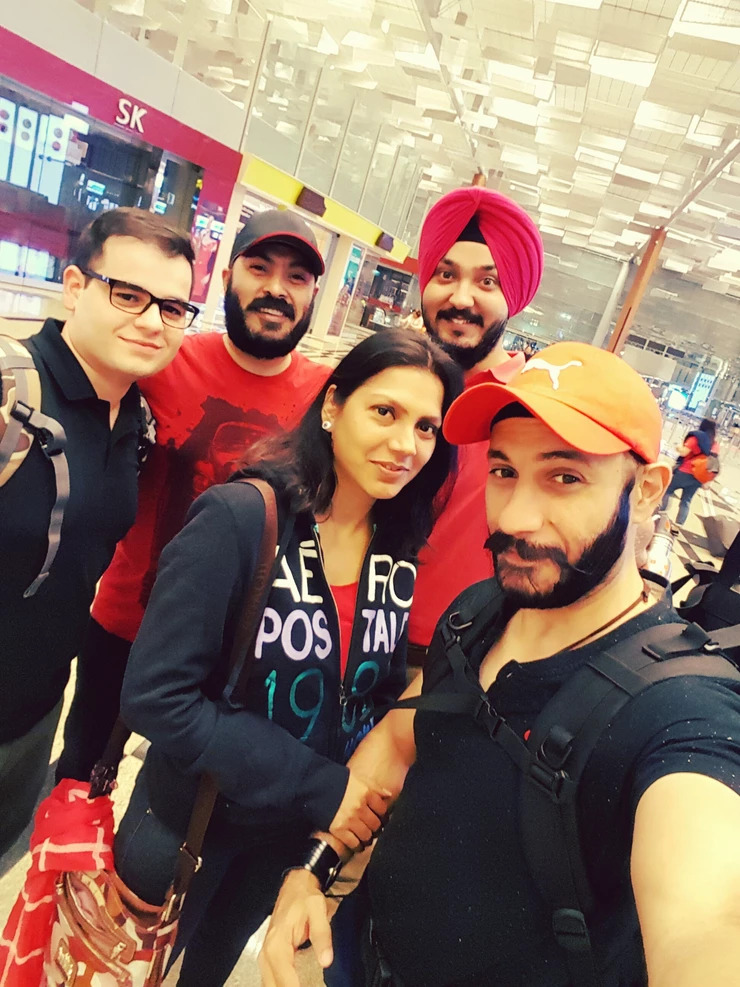 Reached Jakarta our 3 hour layover before our flight to Lombok,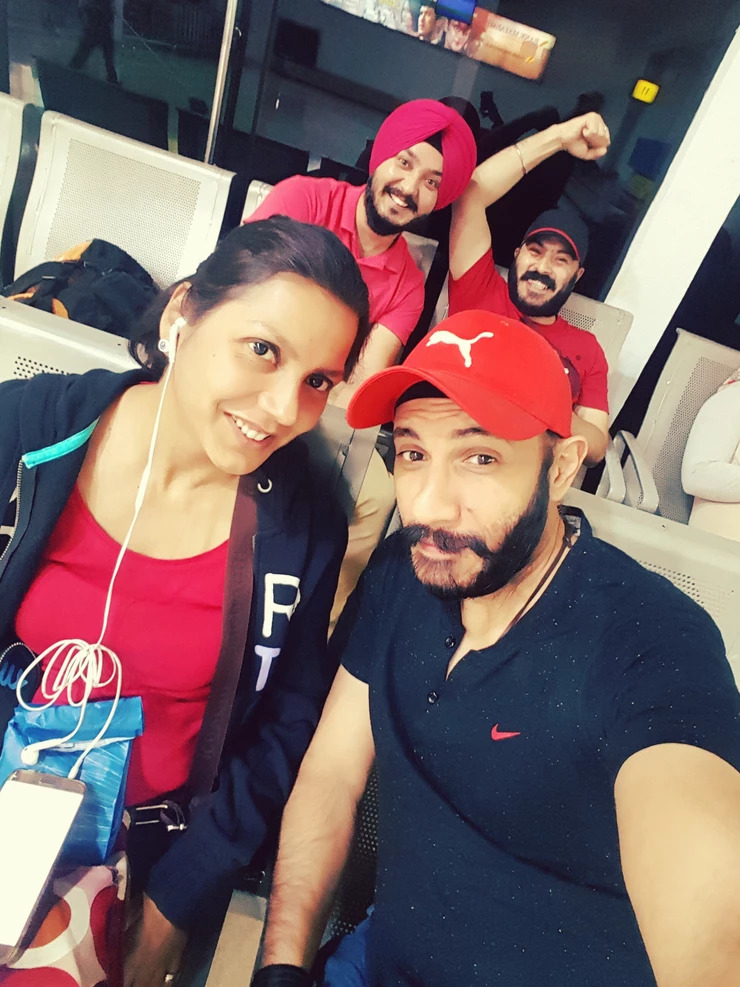 Arrived at Lombok Airport @ about 2:30 pm, had our tour team available to pick us up and drive us to the location for our first night stay where we are suppose to be briefed about the next 4 days trekking info.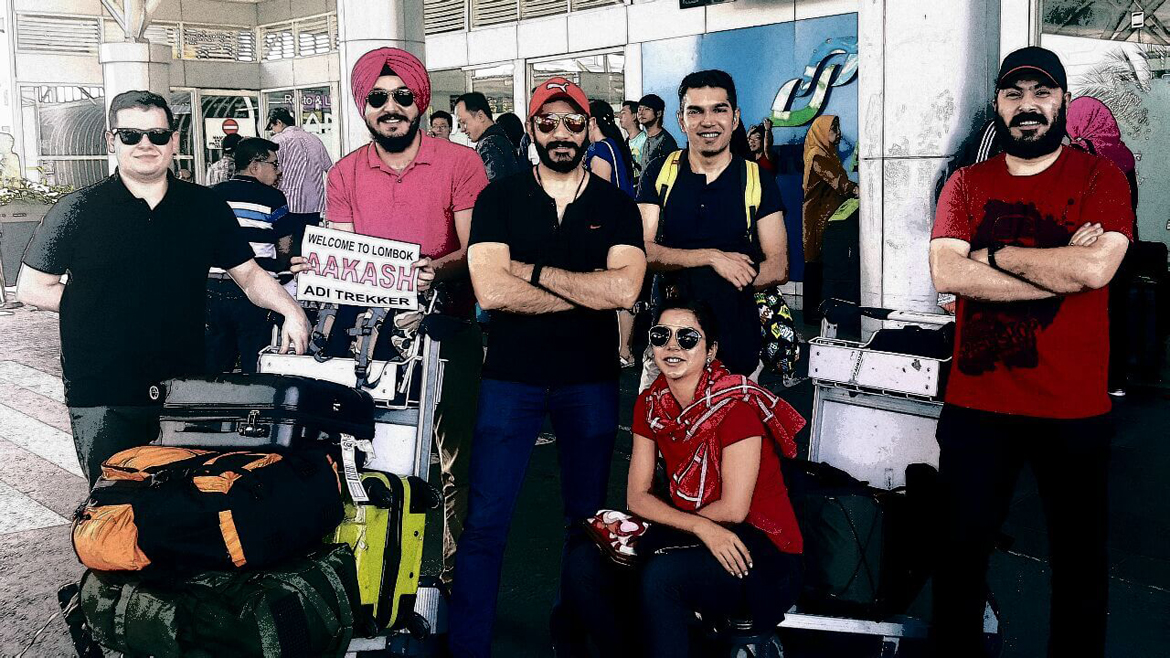 Drive from Lombok Airport to our stay for first night was about 3 hours.. had lunch on the way (Indonesian food) almost 2 and half hour into the drive we could see the sun-setting in the far and we were driving past a beach, asked our drivers for a stop over and all of jumped on to the beach.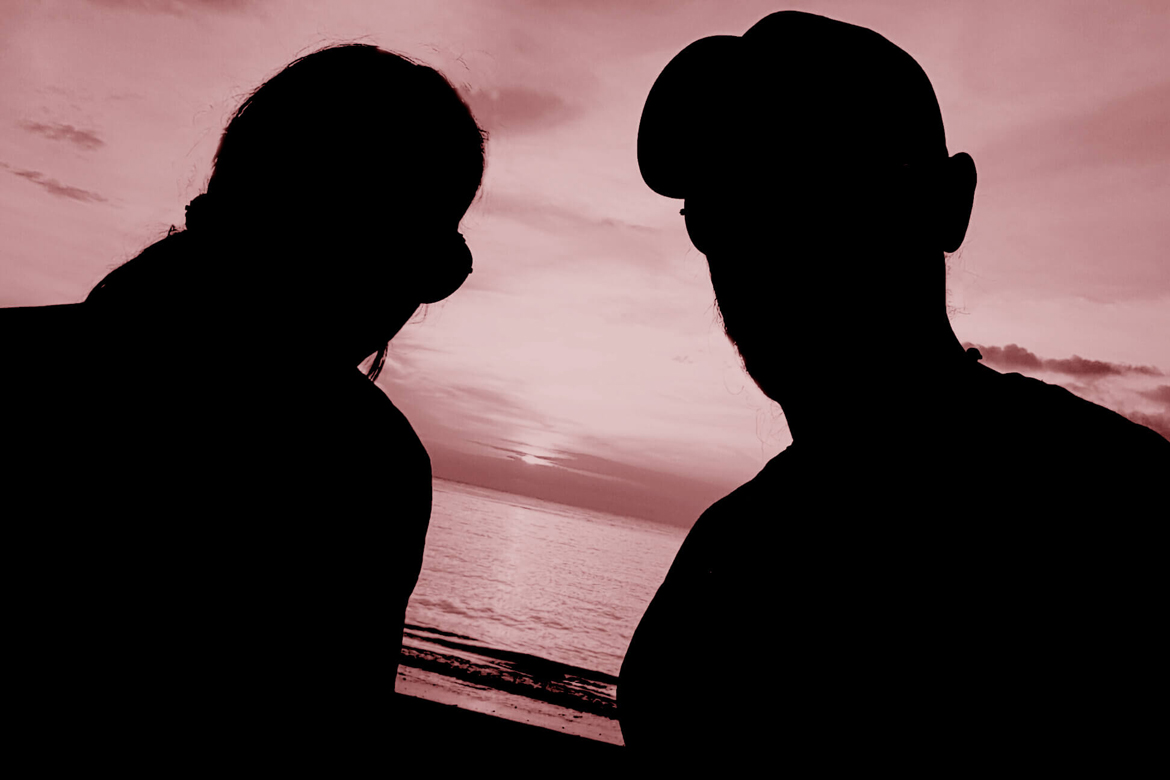 Day 1
After our breakfast and packing all our gears including battery packs, blue tooth speakers – which were the most essential as we would be away from electricity and connectivity for almost 90 hours… close to nature and away from most luxuries we enjoy on daily basis.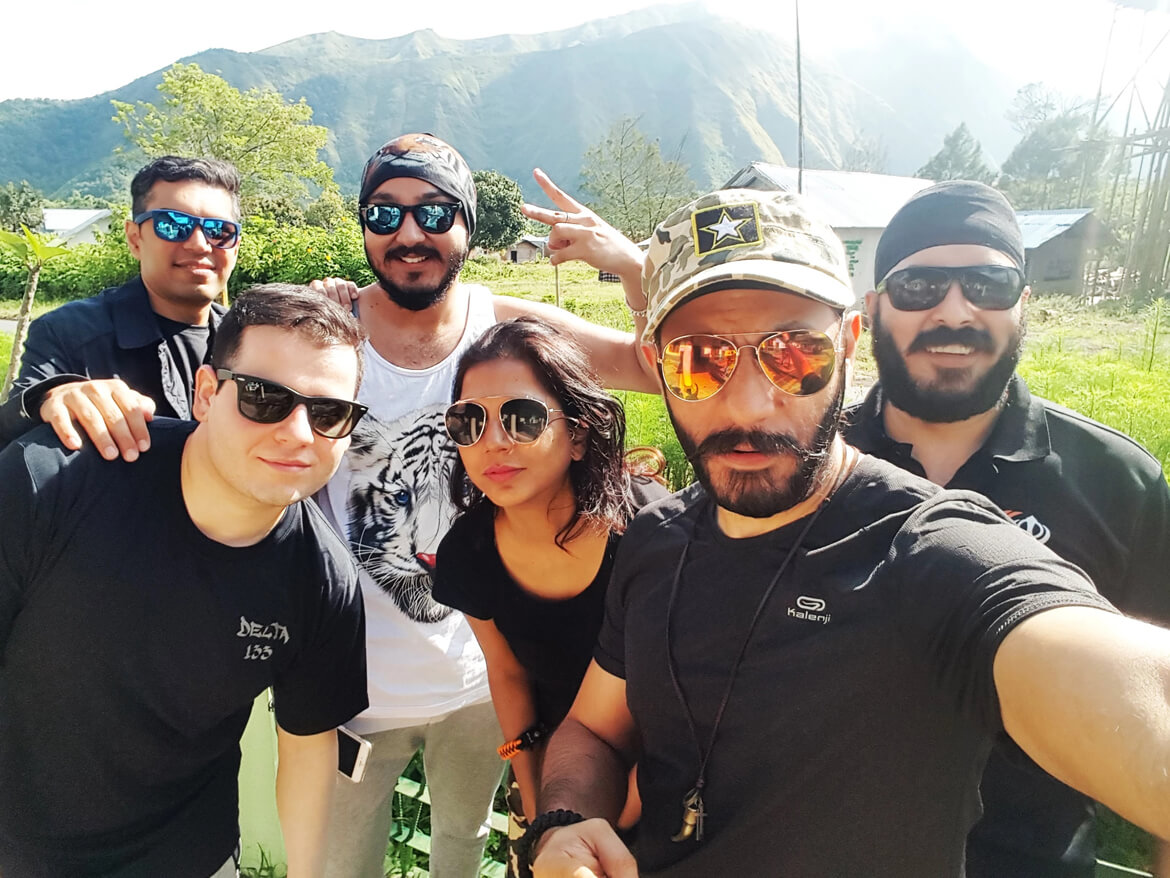 First stop was the pass center where had to register our self and obtain a pass to climb Mount Rinjani, this is a must for every tourist on the mountain. Important to note here was that every guide was given an orange bag to bring bag all the plastic, tin and other non biodegradable waste back from the mountain.
Pass collected, got to the starting point were introduced to our guides and porters who would be with us for next few days.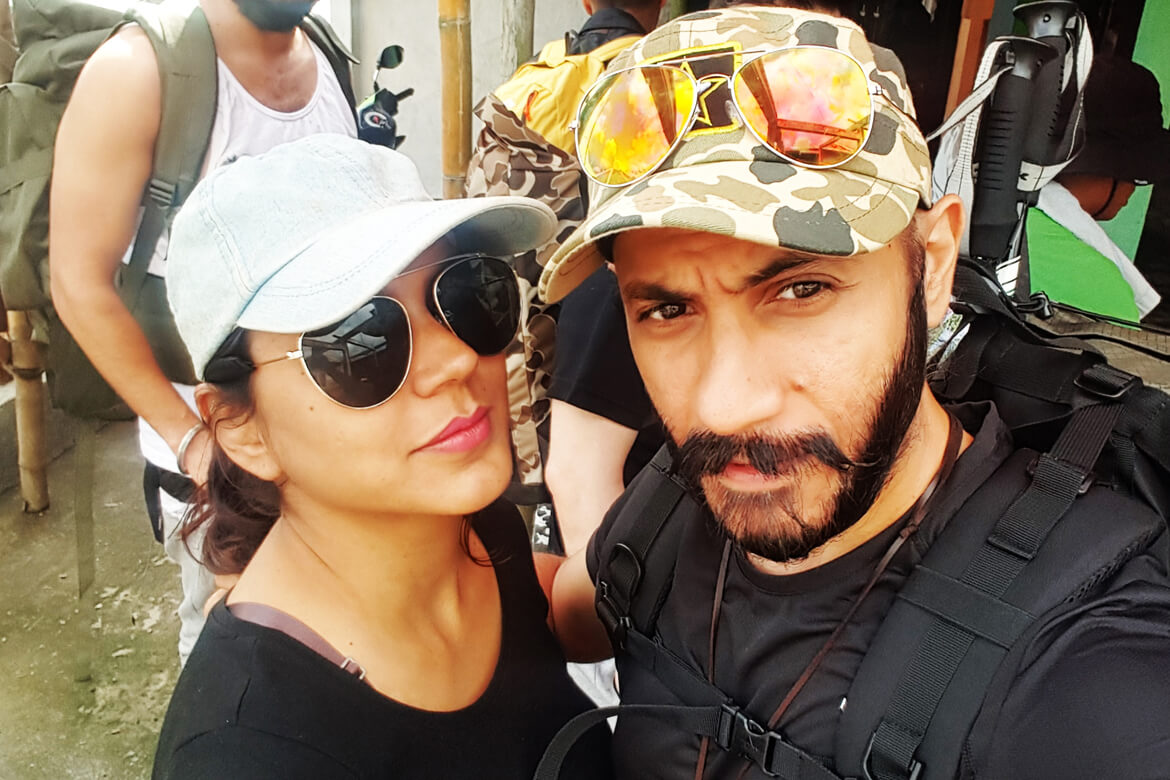 All set for the trek – First Video of the trip.
What a landscape to walk through. the weather and the place made is such an enjoyable journey.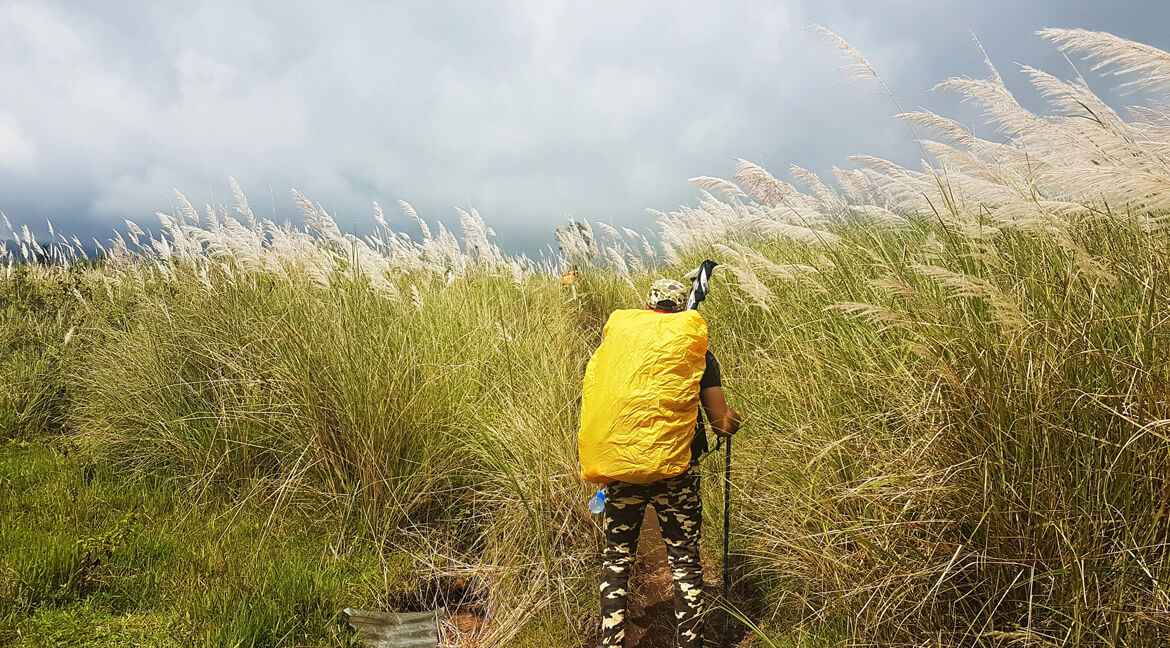 Reached Post 1 @ 12:40 noon time for the first stop of the day, energized and excited for a group photo of the day, the potters got into preparing our lunch.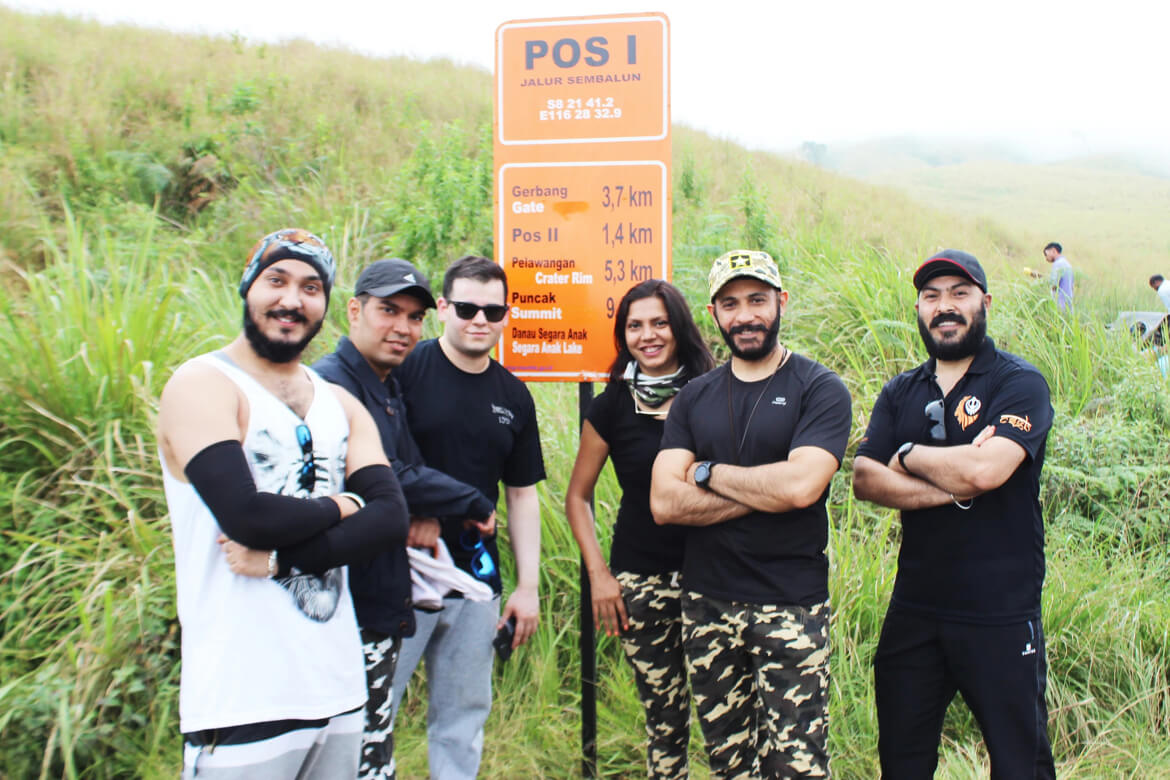 Rain on the way of the trek to Post 3 almost at an altitude of 1900 meters equilavent to 6200 feet, i and Manish were the last ones in the group, got chance for a couple of pics in the rain.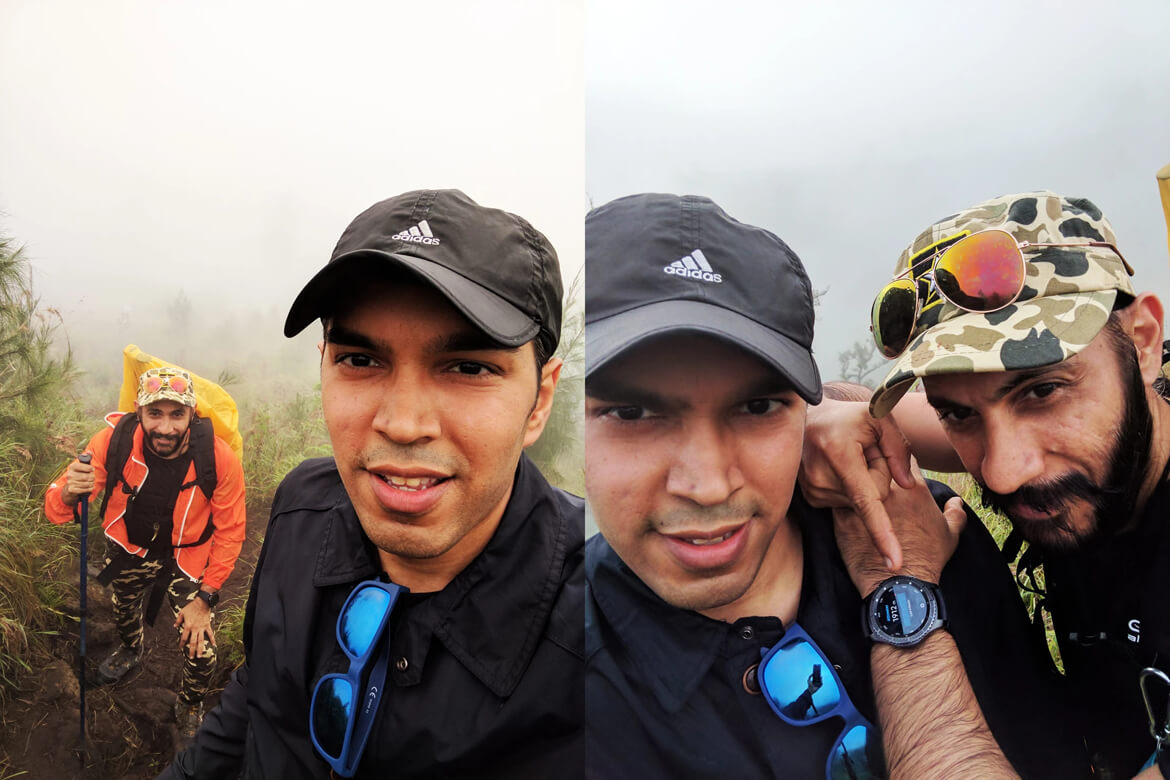 End of the day 1 – Completed POST 1 and POST 2 and couldn't make to POST 3 so planned to set our tents on the way to POST3 – After taking almost 20,000 steps of hiking uphill we all go together to make a video.
Well as the night set in and our dinner was getting cooked we had few light moments dancing along with our guide and poters under the light of thousands oft the stars.
Now was the turn of the guide to sing in his language a song …. and then we made him sing a song in Hindi,…. they are all fans of bollywood.
Woke up @ 5:00 am to start day 2 trek, temperature close to 8 degree, got into our warm clothes, a hot cuppa of tea along with gorgeous view of sun coming up.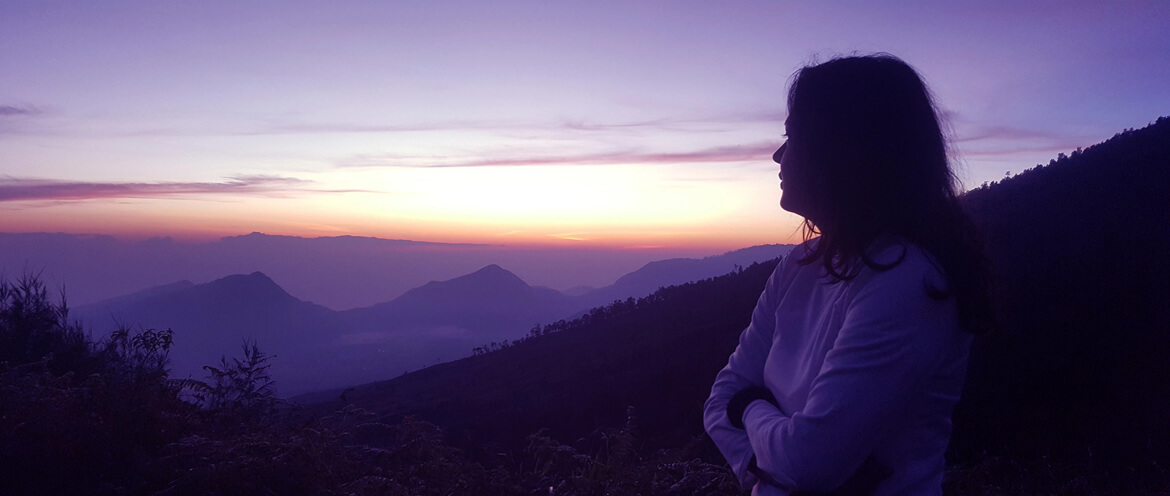 Day 2
Started the trek about 6:30 am
Well Anita's prediction for the climb tomorrow to the summit, she knew what she was getting into. Here are her comments on what she will miss the most.
Reached the crater at 10 am, the view of the lake was so refreshing after walking for almost 40k steps, took out the professional camera for the first time on the trip to capture what we were relishing with our eyes (photo for memories to follow in future)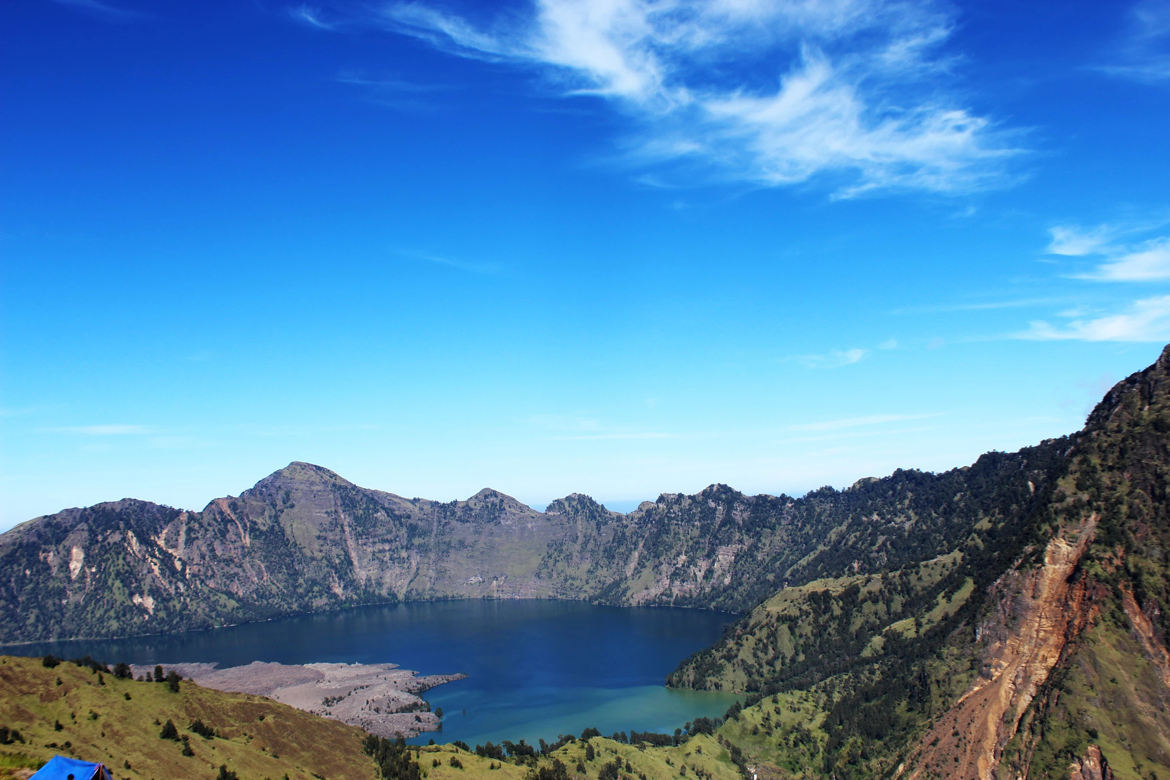 …. and Aman had this towel which exactly defined our status – "NO PAIN – NO GLORY".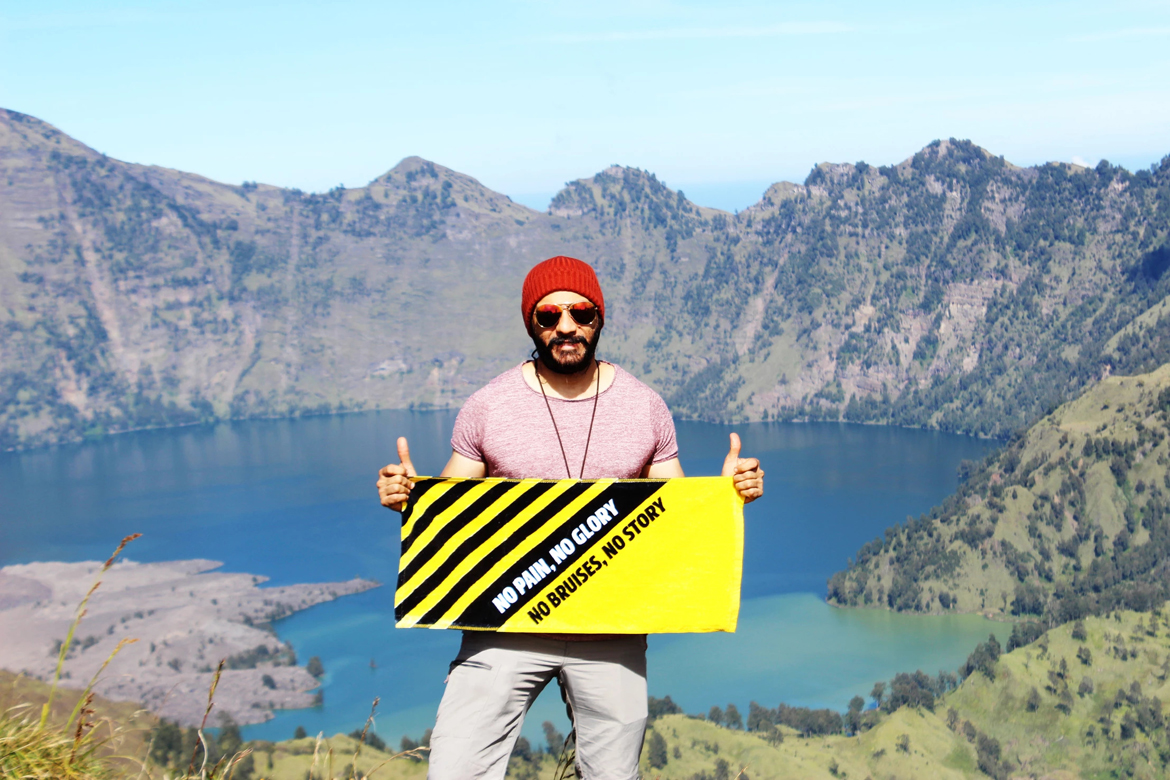 Anita came up with an idea of object and subject photo.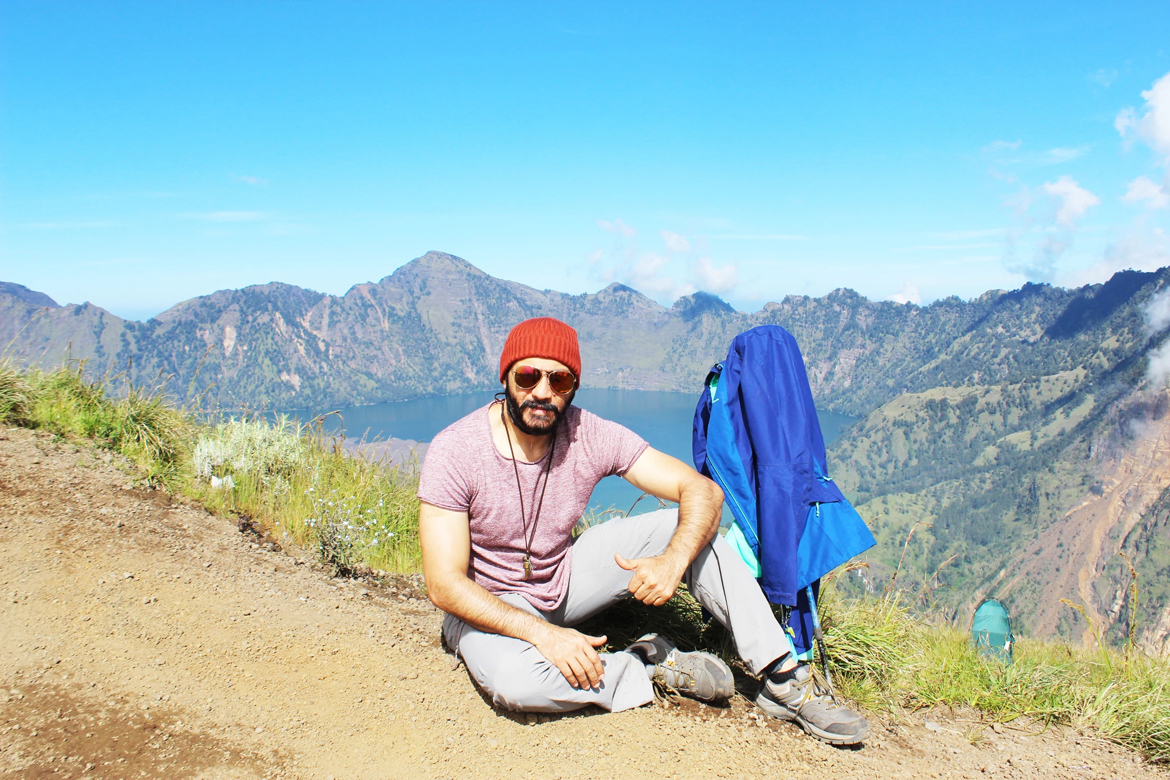 On the top of the volcano is a 6-by-8.5-kilometer (3.7 by 5.3 mi) caldera, which is filled partially by the crater lake known as Segara Anak or Anak Laut (Child of the Sea).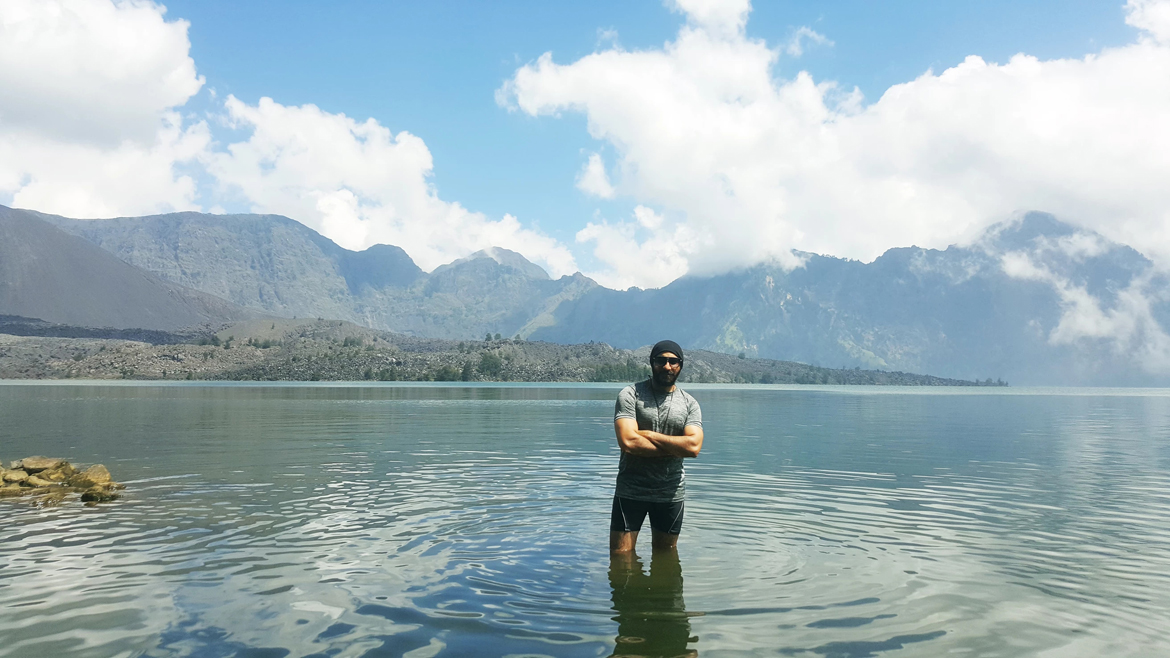 That's the active volcano behind us…. some fumes are visible coming out of it at certain intervals, and the water near it is evaporating as the lava seems to be hot around, the atmosphere along the lake keeps changing every few minutes with clouds covering the mountains around it completely, after a while you have a perfect view of the whole place, sometimes you can see 10 meters ahead of you… but its lovely place to be.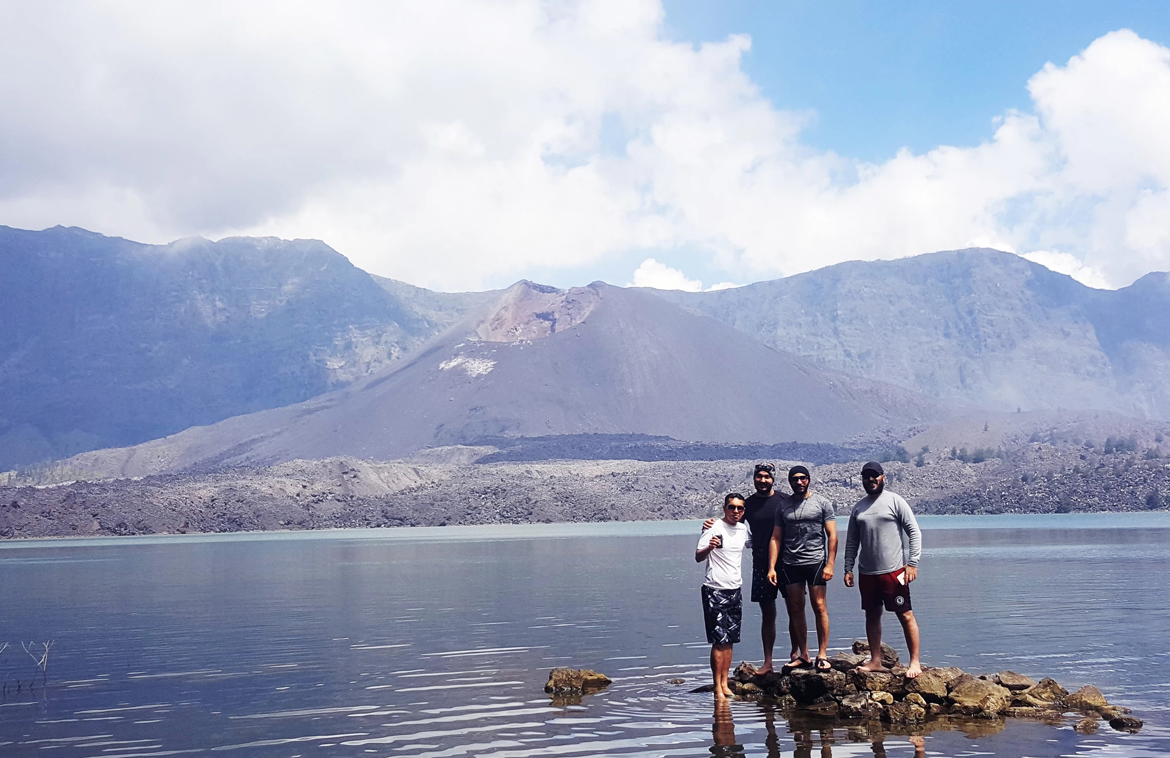 And the water was super chilled and we did jump into the water after 3 hours of cruel trek down hill.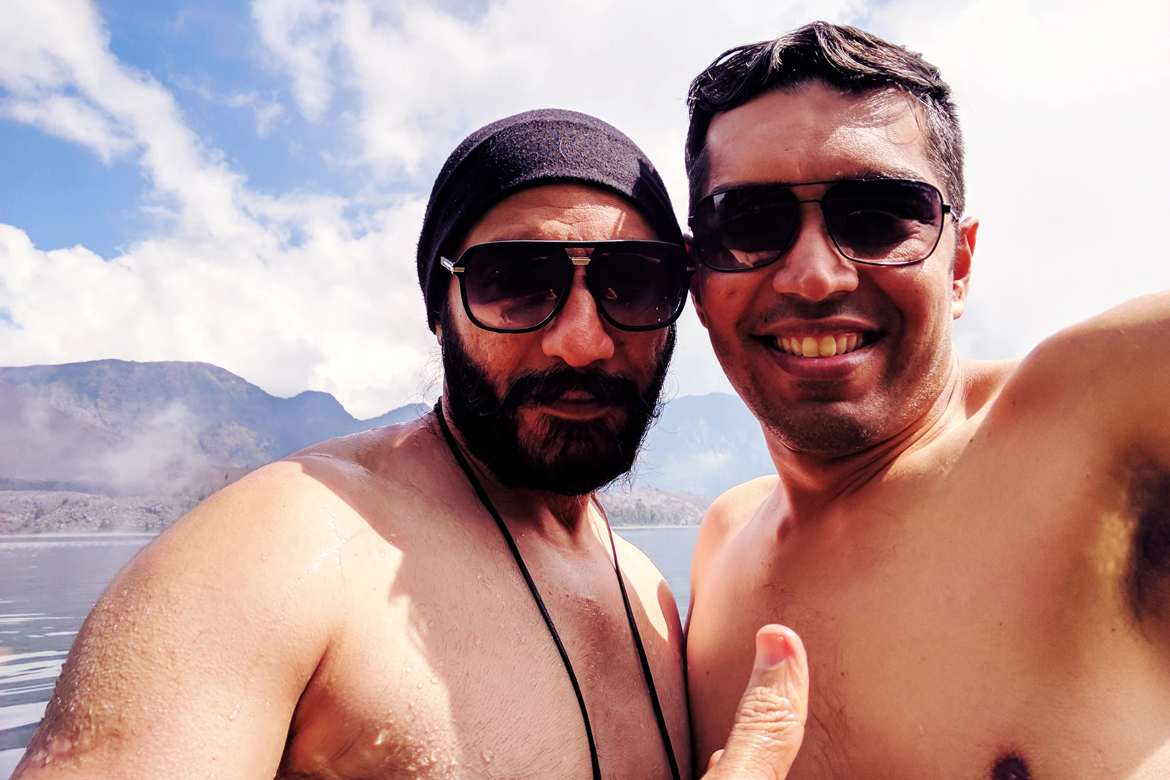 While we were chilling few of us were relaxing on the Inflatable Lazy Sofa at 9000 feet in the clouds.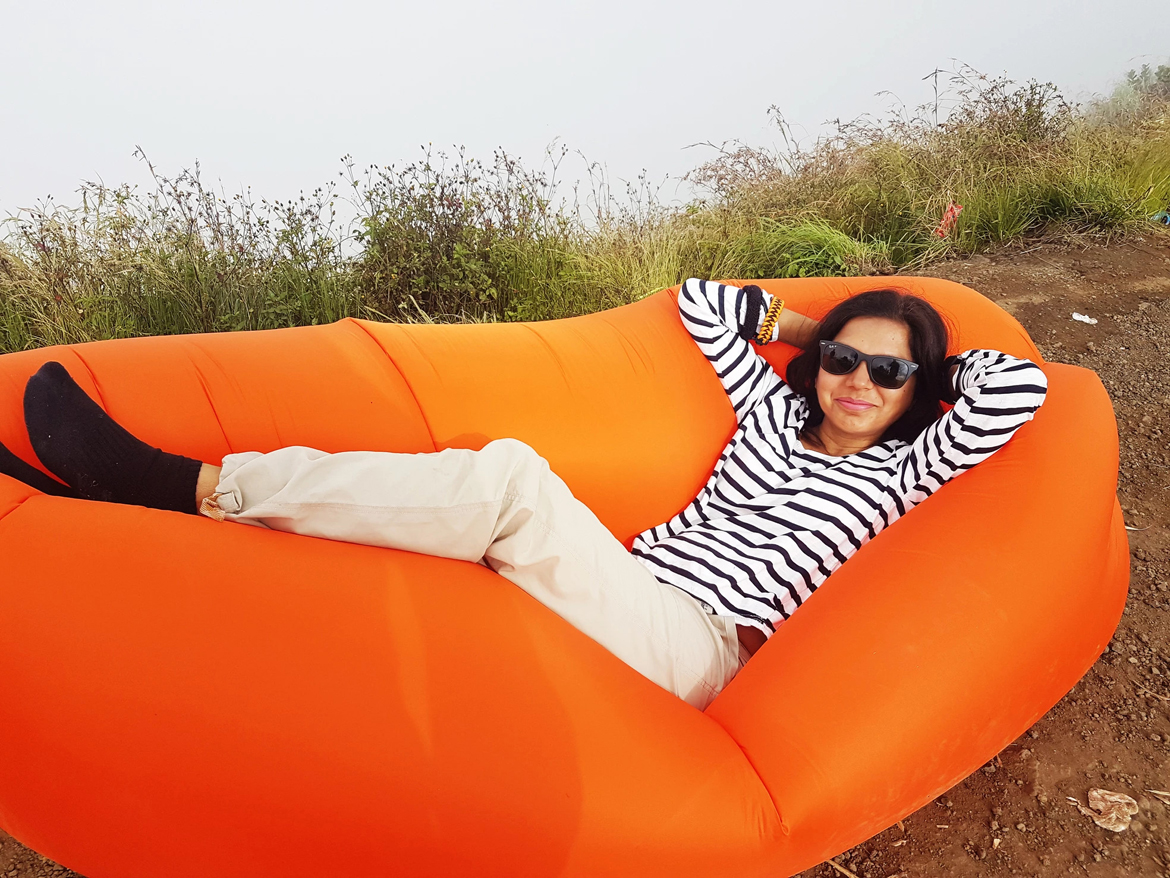 and listening to song… a very good use of lazy sofa, it weighed 1.5kg and we dragged it all the way on our backs.
Day 3
Started our trek @ 2 am need good 4 hours to reach the top, temperature about 6 degree – had another 1000 meters to climb, the temperature as we climb is going to be a challenge.
First Hour into the trek was alright climbed one mountain and had a good view of the lake in the moon light, as we stopped here to catch some breath and dig into our first bite of energy bars. after 10 minutes of break we continued our trek has another 3 hours trek to the summit.
Next 2 hours was scaled listening to songs and walking in a single line with trekkers ahead and behind all trying to make to the top before the sunrise, tons of trekkers getting strength from each other, all with one mission.
Came a point when the temperature fell close to 5 degree and winds speed was past 10 km/h, all of us could feel the cold and the task ahead was a killer with an inclination of almost 60 degree the climb became slow and toughest, mind started messing with us, but as we all knew before we started this quest that we were mentally stronger than being physically stronger……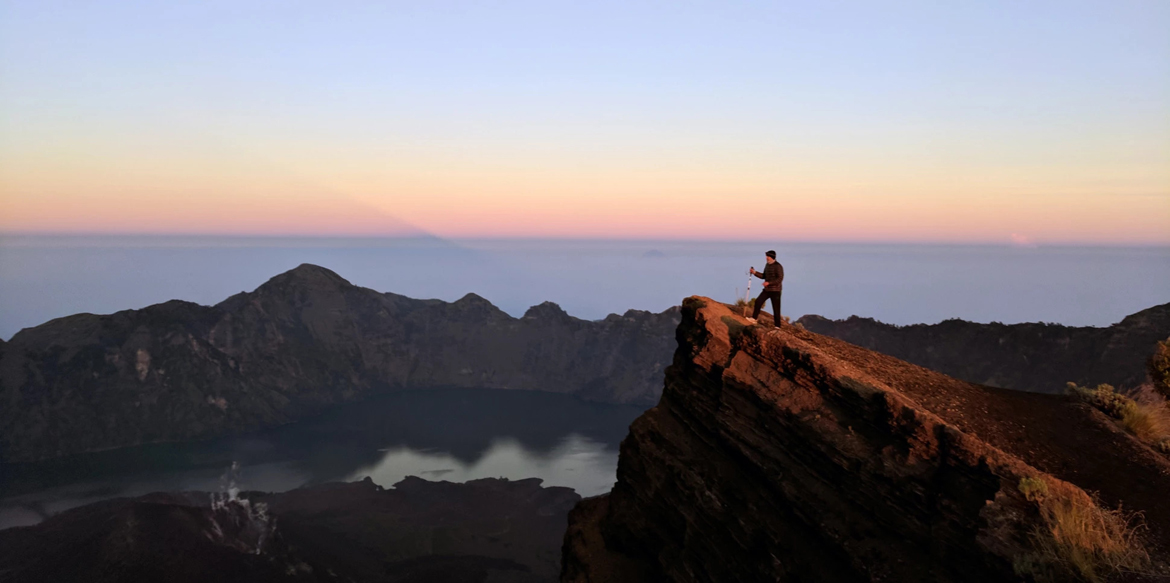 Fought our minds and kept talking every step which was making us closer to our destination.
6.15 am Glorious sun rise on our face.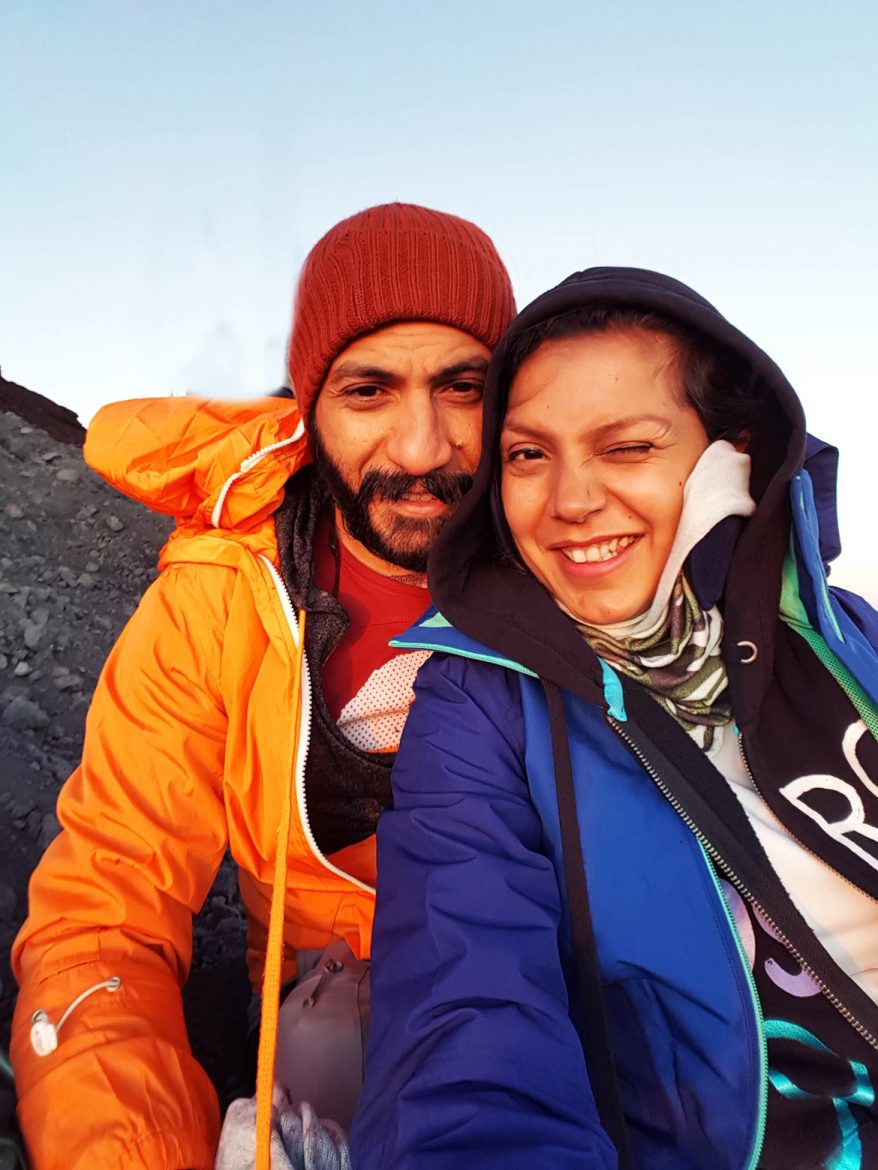 Reached the top @ 6:30 am, after watching the most wonderful sunrise, and glorious view all around, we had conquered our self all over again.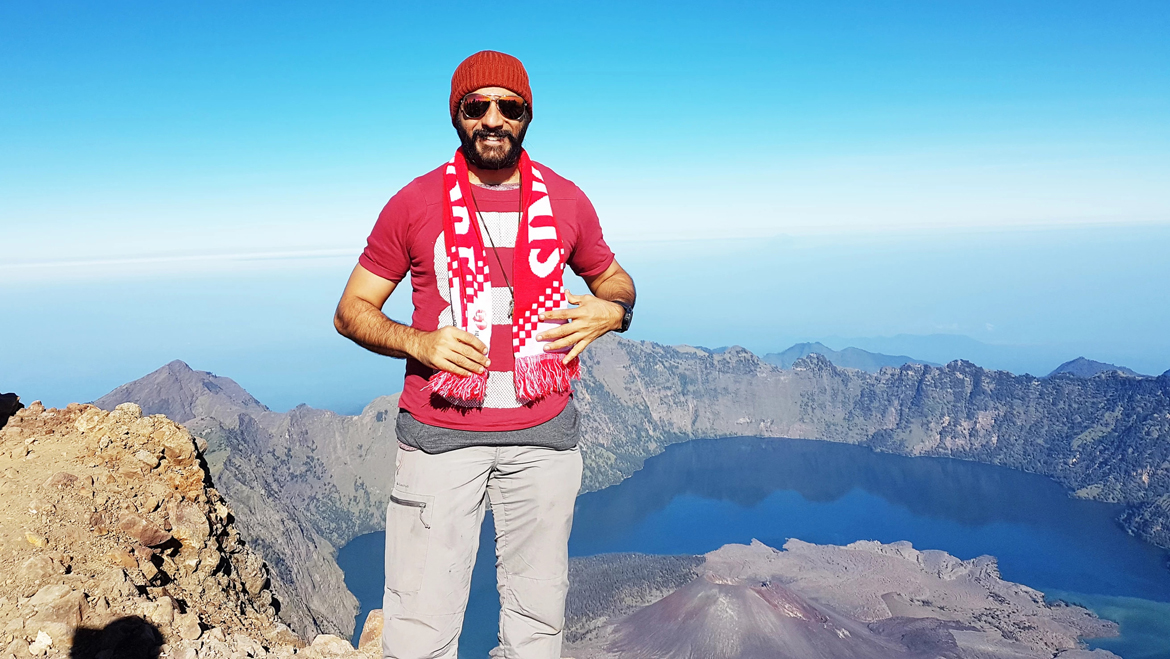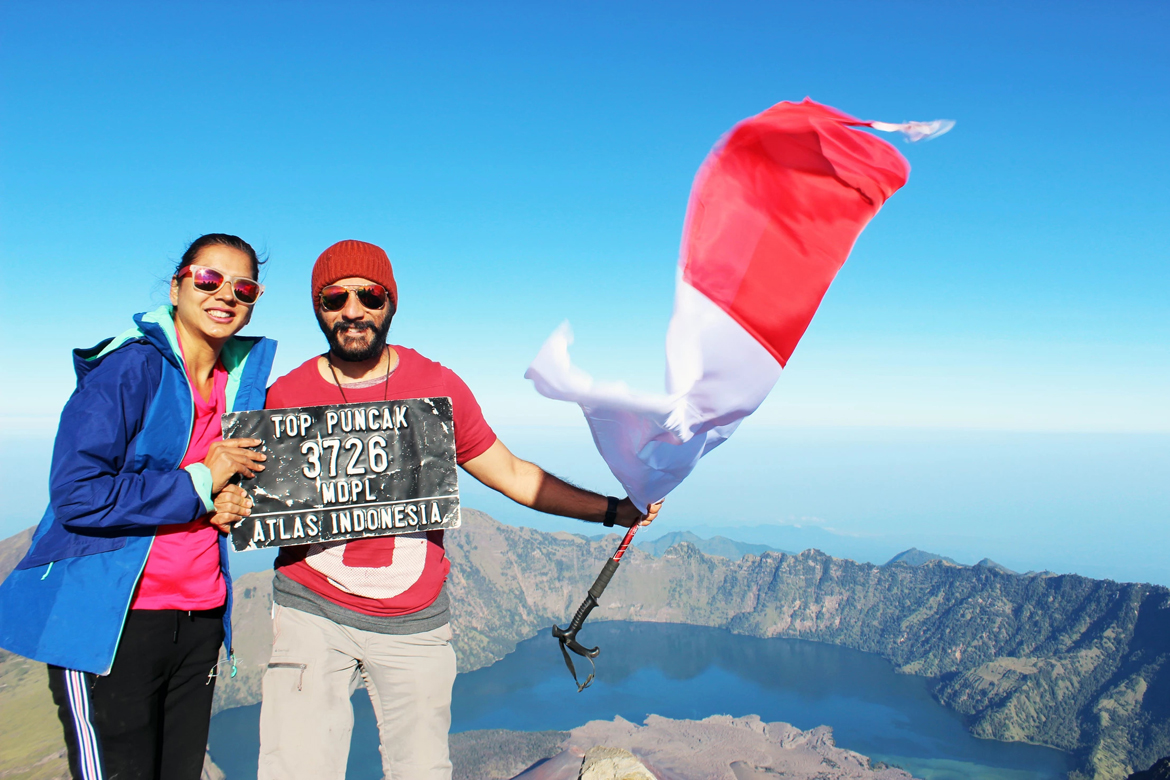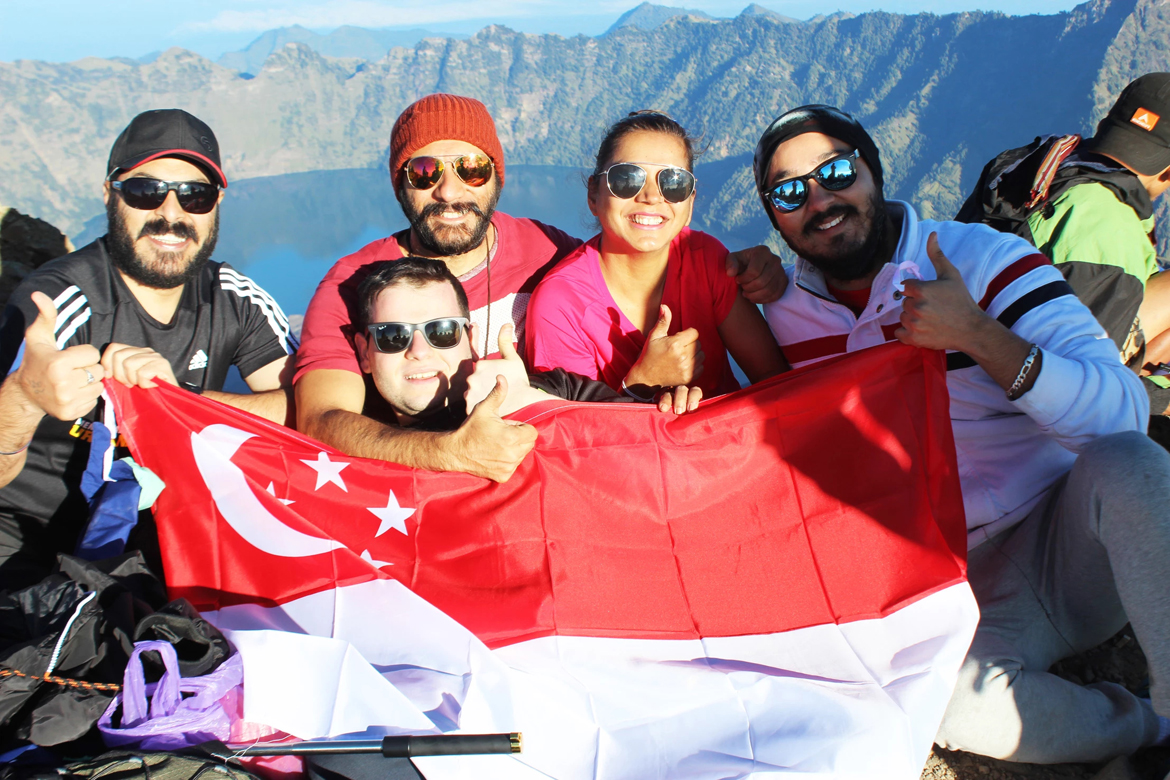 Message that Anita wanted to say from the top of the world – exactly @ 12224.41 feet the highest she ever scaled in her life.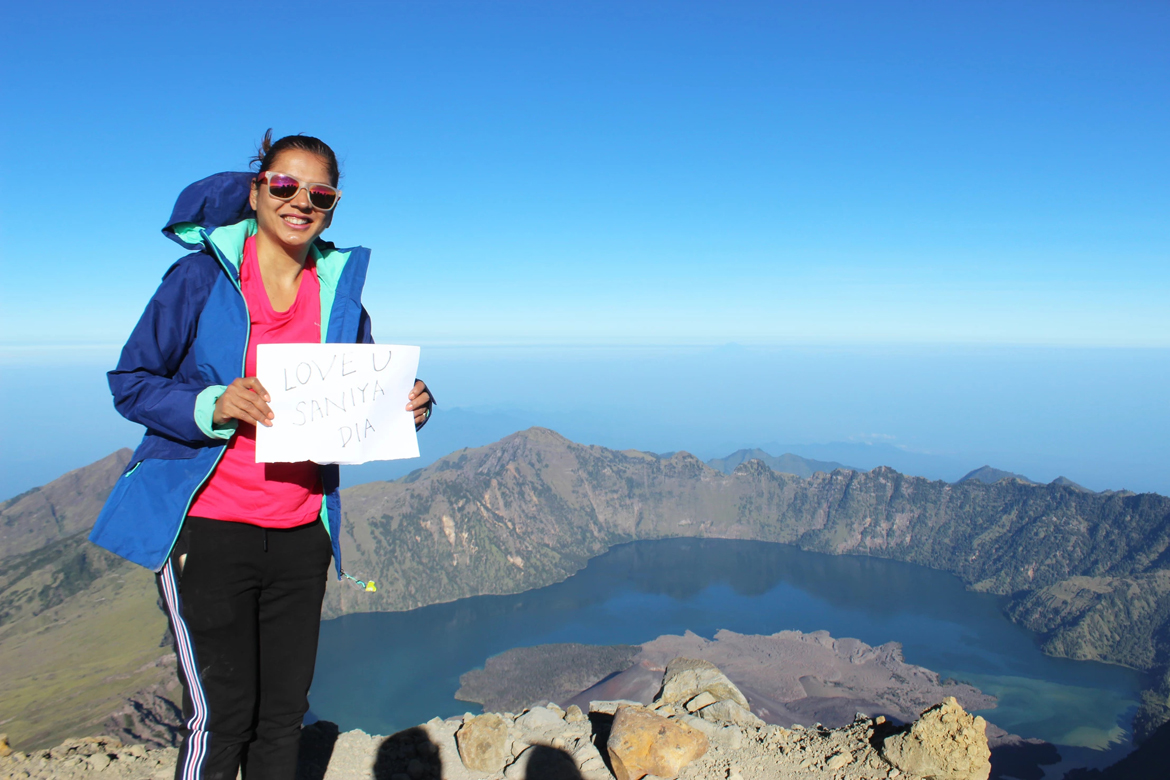 And we found fellow Singaporean on the peak, and got together for a One Singapore family photo.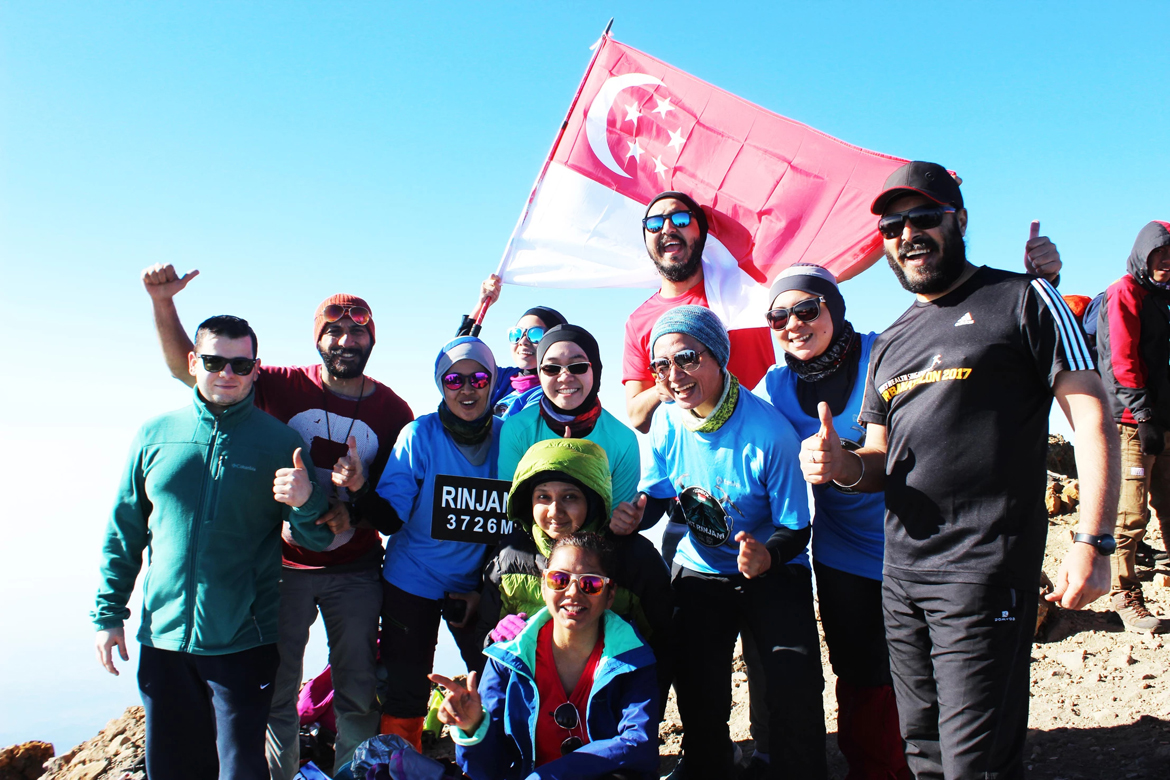 Video of the same .. One Singapore Family
Getting down was equally challenging because of the course, rocky and volcanic stones.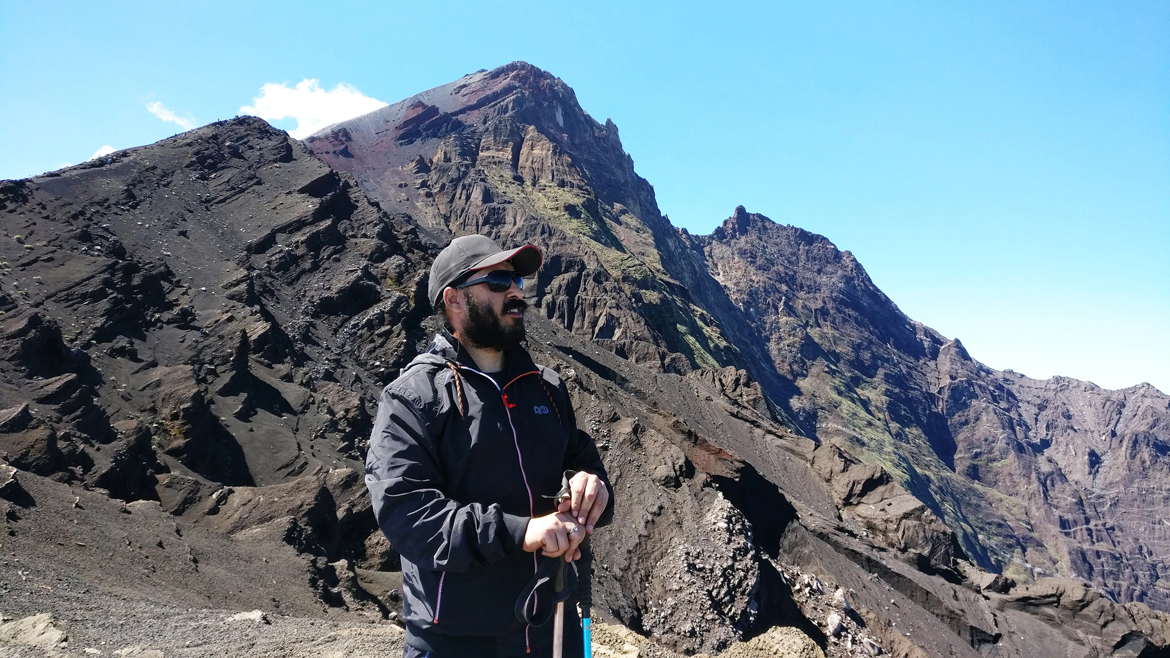 Yes we did it conquered the summit and back to base camp, completely exhausted and tired from the 7 hours of trek.
Once at the base camp got together to make the following video before we get 1 hour sleep, then further trek down to
After an houir of sleep strarted our journey down hill to POST 2 where we would sleep for the night and next back to the base and off to the airport.
DAY 4 – Final Day
With the backdrop of Mount rinjani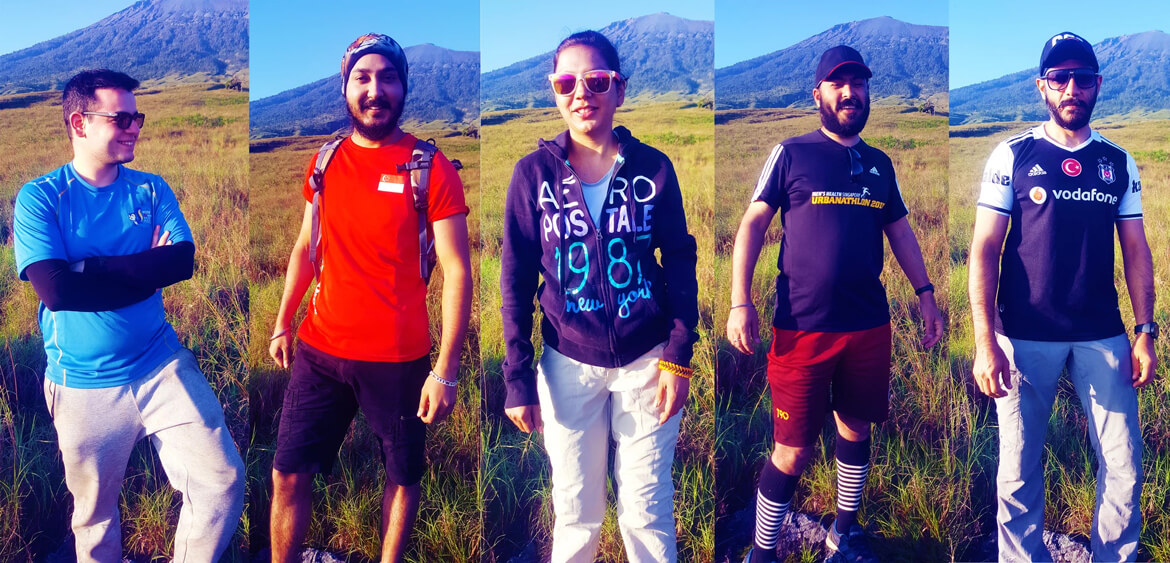 …we all made the final video sharing our experiences.
Another walk for 1 hour and we were back to the base and started our drive back to Airport which took about 2.5 – 3 hours, going through Mataram and circling half the island before finally getting to Airport. It features long windy roads on cliffs with tons of wild monkeys on the side of the road.
Well the whole trip was completed by taking 100,618 steps, equivalent to 1,176 minutes of walking, 80 km equivalent distance. above is the statistics from our smart watch.

Completed one more memorable event of live.
Thanks to Anita, Amandeep, Aman Vohra, Ravi & Manish for making this unparalleled to any trek as of today.
BLOOPERS
BLOOPER 1
BLOOPER 2
BLOOPER 3